A fresh home for flowers
After 40 wonderful years, we are giving the Flower Market a fresh, new home. We are creating a more inspiring place for you to buy beautiful flowers, plants, foliage and sundries. A more fitting place for our wholesalers to sell them.
We're not reinventing the rules or changing the game. We are, simply, keeping the best bits about the market - that's the remarkable people and the exquisite products - and restyling the environment. The result is a modern and pleasant space for buying flowers. With the new building we are sure the Flower Market will continue to be a very special place.
Benefits
A richer buying experience on every visit
With a bright, fresh space that's perfectly conditioned, see and experience our world of flowers in a whole new way. This is the way wholesale flower buying should be.
Keep your flower heads dry when all about you is wet
Well-lit, covered parking available allows you to load your delicate orders protected from the elements. You and your flowers stay dry even during the wettest of British mornings.
Great location, just like now
Your time is very important. The new Flower Market is immediately off Nine Elms Lane, in the heart of London, and you can drive in coming from both the east and the west.
Feel the buzz, soak up the atmosphere
We say goodbye to those empty stands in the current market. Instead, we're creating a market that is full of traders, flowers, buzz and atmosphere.
Completely familiar, yet wonderfully new
We're not changing everything about the market. The things you love; the energy, the spirit, the powerful sense of community and the banter. These, the very essence of the market, all definitely stay.
Timeline
Plan your visit
Getting here
The Flower Market is moving just down Nine Elms Lane to our old Main Entrance Site. If you come from the west, it's one minute closer. If you come from the east, it's one minute further. Your new postcode for sat navs will be SW8 5EH.
Getting In
You enter from Nine Elms Lane and turn left into the new Flower Market, through the barriers. If you have a permit it'll work just like now. If you usually pay cash, you now pull a ticket on entering and pay on foot before leaving at one of the pay stations. £5 gives you three hours parking. Like now, you can enter the new Flower Market with both commercial vehicles (vans) and private vehicles (cars).
Getting Out
To leave, you turn right out of the new Flower Market and then turn either left or right onto Nine Elms Lane. If you buy from the Fruit and Veg Market as well, please speak to us to update your permit to give you access. You'll need to have a commercial vehicle to enter the Fruit and Veg Market.
New location
Open when you need us
The hours of the market remain the same as now, Monday to Saturday 4am to 10am. Just like now, some of our wholesalers will open earlier and close later to suit their own businesses.
Parking over two floors
There are two parking floors in the new Flower Market. The ground floor is under cover, well lit, and with a max height of 4.20m for those with tall vehicles. The first floor is open air and there are three goods lifts, each of which fits two large auction trolleys, connecting the car park to the Flower Hall.
Wholesalers on ground floor, resident florists on first floor
In the new Flower Market, you'll find our wholesalers on the ground floor, in the Flower Hall, and our resident florists' workshops on the first floor.
Inside the new Flower Market
When you step into the new flower market it's like diving into an ocean of flowers, plants, foliage and sundries. Uninterrupted beauty, wall to wall. This is a place where florists belong. This is how buying should be.
A kaleidoscopic flower hall
The flagship of the new Flower Market is our Flower Hall. A bright, modern space packed full of sensational flowers, plants, foliage and sundries. The main area is open-plan and conditioned to a perfect 14°C. This makes sure that our flowers stay fresher, for longer.
Unique spaces for unique wholesalers
Not all our wholesalers need chilling (cool vases anyone?), so we're introducing self contained units with shop fronts. You'll find these at the front and the back of the Flower Hall.
A vibrant and diverse mix of traders
Choice is an essential part of the Flower Market. We know that. We are dedicated to making sure we have a diverse and vibrant selection of wholesalers, both in offer and size. See the Flower Hall map below and find where in the new Flower Market your favourite wholesalers are.
Bright lights blended with natural light
You come to the Flower Market to see, touch and smell the flowers. To handpick the best for your customers. With bright lights providing 500 lux at floor level (that's bright) see each petal in high definition. Rooflights overhead allow natural light to spill in, essential for plant photosynthesis.
A market of greater comforts
A warm café inside, which is self contained and not chilled, means you're never far from a cup of coffee or a butty. New and much improved WC's provide comfort post coffee, before heading back on the road.
The role of a market trader is infinitely more complex and demanding than it was in the 20th century. Creating from scratch allows us to bring some simple, effective logic to make the market work better for the modern wholesaler.
Open and close up quickly
Integrated shutters allow traders to open and close up quickly and securely. We say goodbye to the messy gates of the current market.
Better unit options
There are three different unit types because we understand that different businesses have very different requirements.
An advanced conditioning system
A state-of-the-art conditioning system, which conditions the Flower Hall to the perfect temperature for storing flowers, is better for both the planet and the pocket.
A modern delivery system
With four loading docks we're able to handle all the Flower Market deliveries. A trolley storage area de-clutters the market by providing a safe place for traders to store trolleys to go back to Holland.
Resident florists
Did you know we have a dozen contract florists based in the market? On the first floor of the new Flower Market are our florist workshops, a vibrant hub for these florist businesses with the Flower Market right on their doorstep.
Book an introductory tour
There's no better time to start buying from the Flower Market than in our brand new home. Experience our world of flowers in a whole new way. Join 75% of London's florists and discover a better way to buy beautiful flowers, plants, foliage and sundries.
If you're a new florist business or an existing business that's looking to switch suppliers, let us take you round the new Flower Market and match you with your perfect wholesalers. We start tours at 7am so you can see the best of the market.
Please fill out the form below to book your tour
We're here to help
During opening week, starting Monday 3 April 2017, we'll be on the ground and on hand to help you find anything should you need us.
Before then, if you have any questions about the new Flower Market or the move, please do get in touch. We're always happy to help and are available Monday to Friday 08:30 to 16:30.
T: 020 7501 3495
E: hello@cgma.co.uk
Time lapse camera
Follow the progress in real time from our time lapse camera overlooking the new Flower Market. The camera takes a photo every ten minutes, capturing every step of the way as we transform the building site into a vibrant, bustling new Flower Market.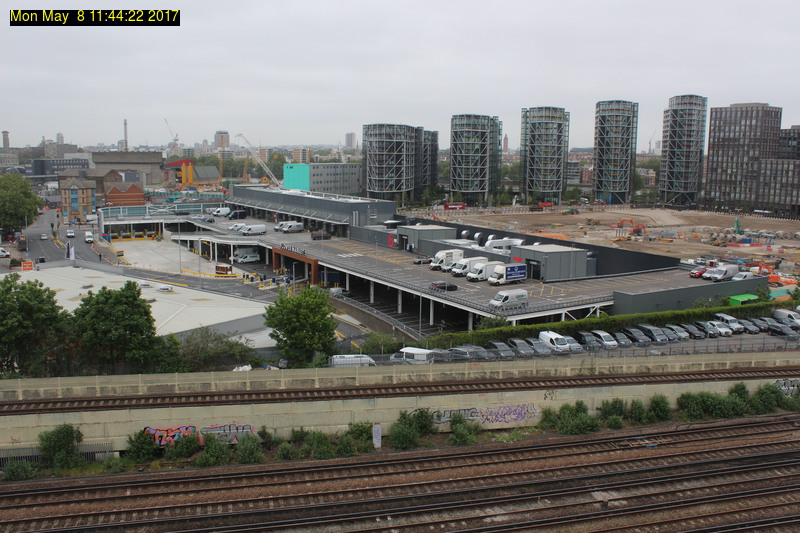 Latest photo from the time lapse camera